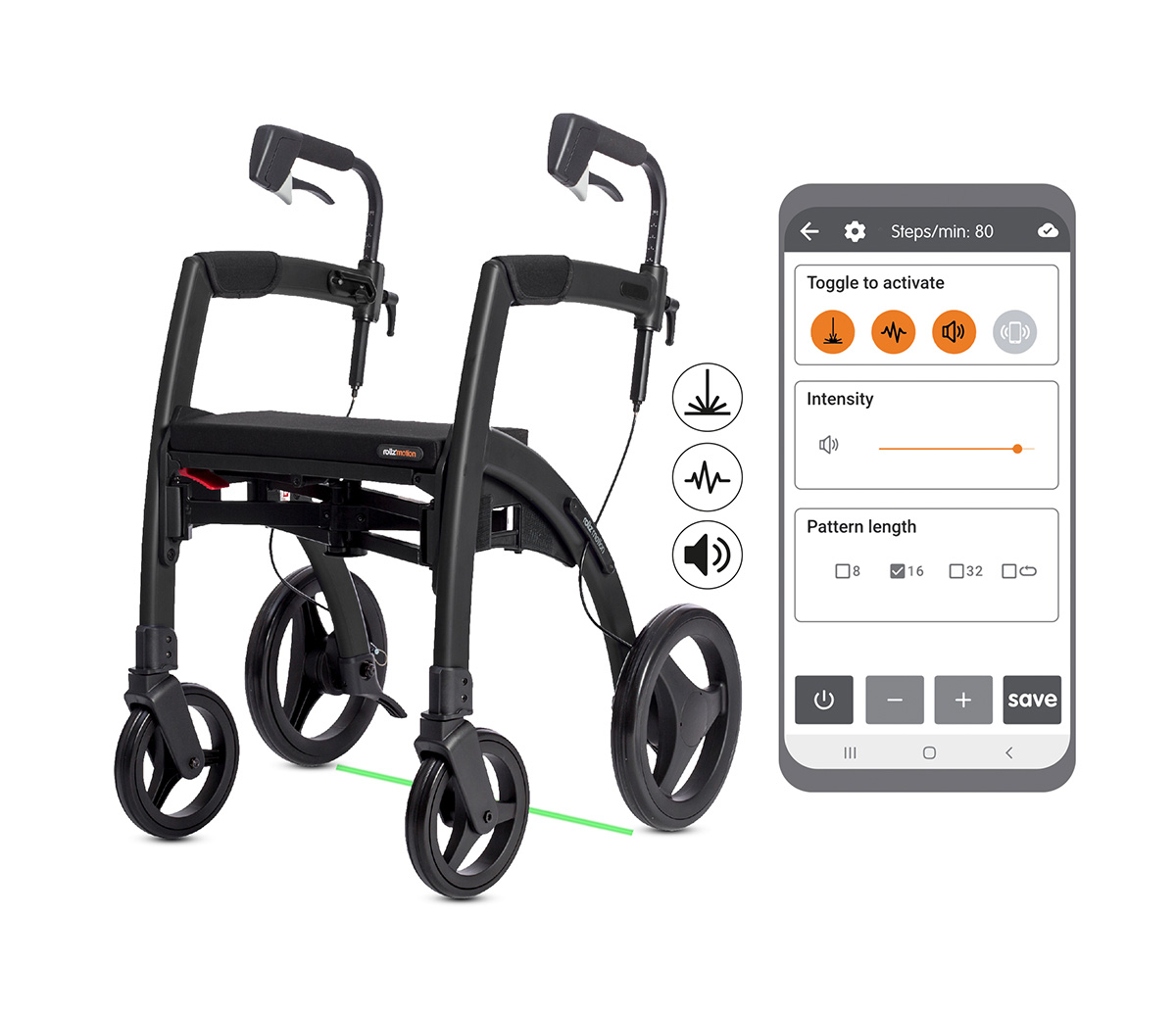 Parkinson rollator walker with customizable cues
Rollz Motion Rhythm
This rollator walker is meant for people living with specific neurological diseases such as Parkinson's. Multiple stimuli are available to help the user take the first step, make subsequent steps, or maintain a walking rhythm.

The stability of the Rollz Motion Rhythm prevents falls that could occur due to balance problems. In addition, the cues overcome freezing or festinating gait patterns. A projected laser line could help to trigger the user to break a freeze. A metronome or the repeating vibration in the handles can further help to set the walking pace".
Multiple cues to break a freeze
Laser

A green laser line is projected onto the ground to stimulate breaking a freeze and improve the stride's length and walking speed.
Sound

A metronome signals the preferred step frequency. The acoustic rhythm contributes to regulating the walking speed.
Vibration

Handles vibrate at the rhythm of the pace. A big advantage of this tactile cue is that it is not noticeable to surrounding people.
Keep on walking
Used in rehabilitation programs
This versatile rollator walker can be used by physiotherapists and other professionals supporting patients rehabilitating from neurological or mobility-impacting injuries. This includes people who have been in a coma, people living with Multiple Sclerosis, or other neurological conditions that require extra support to (re-learn how to) walk.
Regain your rhythm at the push of a button
Easy to set and activate by yourself or with your practitioner
The Rollz Motion Rhythm is developed on the same frame as the Rollz Motion, to which an electronic module has been added to offer visual, audible, and tactile stimuli.

The cues of this Parkinson rollator walker start when one of the buttons on the handles is being pressed. Your practitioner can help choose the cue combination, frequency, duration, and intensity to fit your specific situation.
Overcoming freezing of gait
Cues are meant to alert and trigger into an action
Parkinson's patients can experience sudden, short, and temporary episodes of inability to move the feet forward, despite the intention to walk. This could result in the characteristic appearance of the feet making quick stepping movements in place. A trigger or cue can overcome this.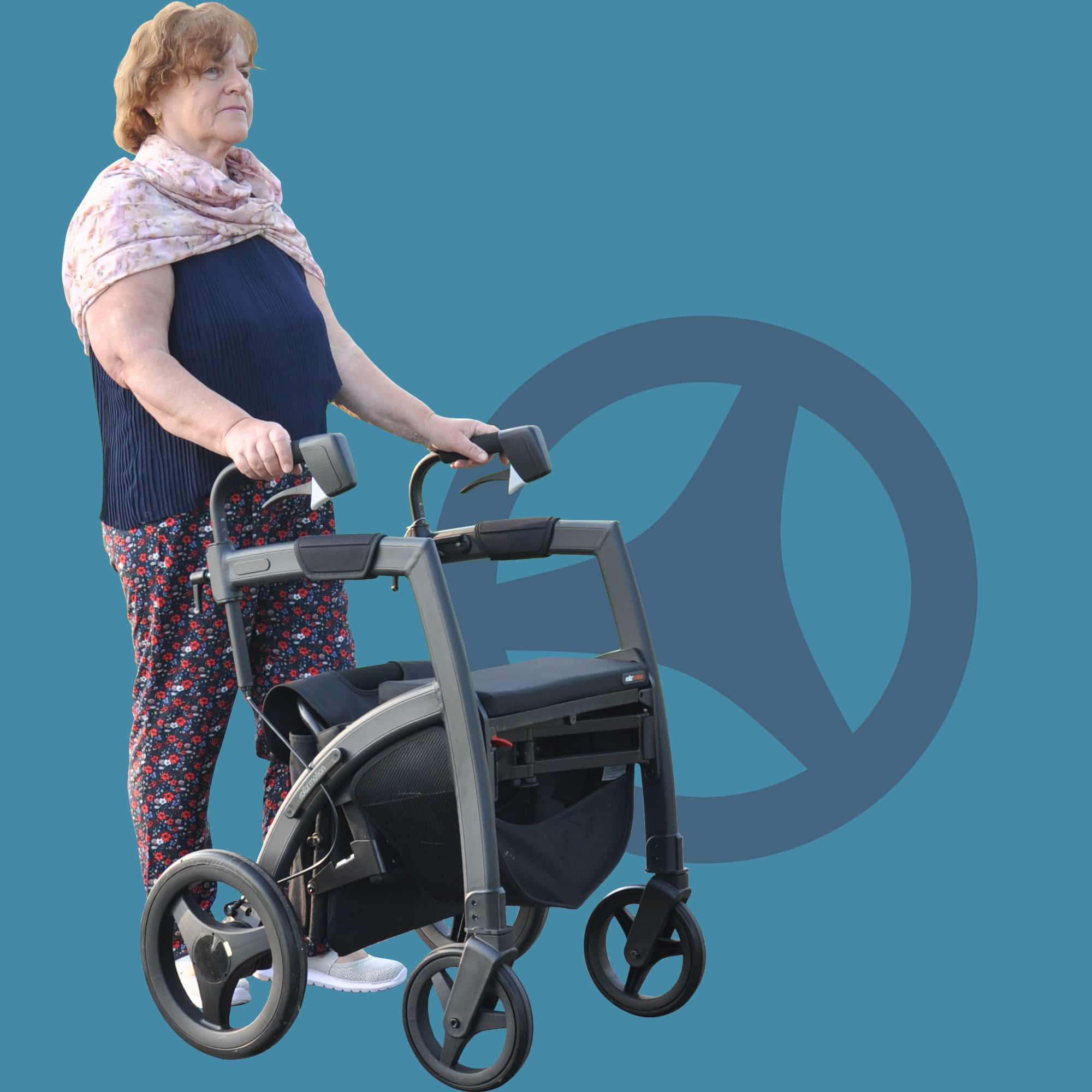 Unique combination
No Parkinson's patient is alike, so how could one rollator walker work for everyone?
The three cues on the Parkinson rollator walker can be combined in different ways and (de)activated on the go. This allows you to always have the right cue at the right moment.

Furthermore, each cue can be adjusted to perfectly fit your needs in terms of speed, intensity, and duration. This way, every person living with Parkinson's disease can use it in their own rhythm.
Take the next step!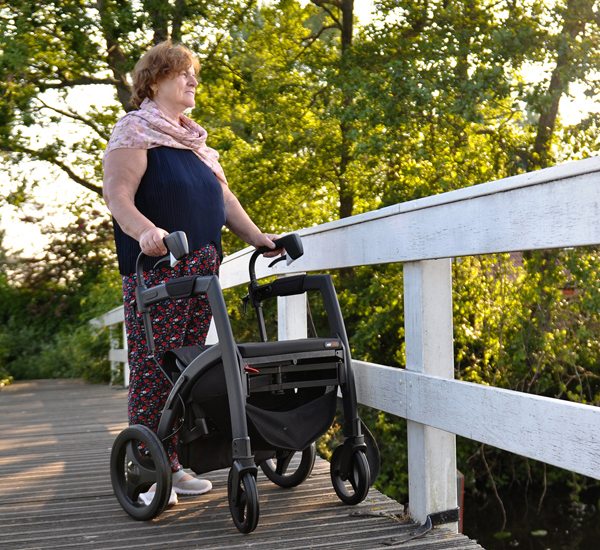 Research shows benefits of rollator walker use in Parkinson's
A recent study shows that 80% of the Parkinson's patients who participated in the research benefited from using Rollz's Parkinson's rollator walker with different cues.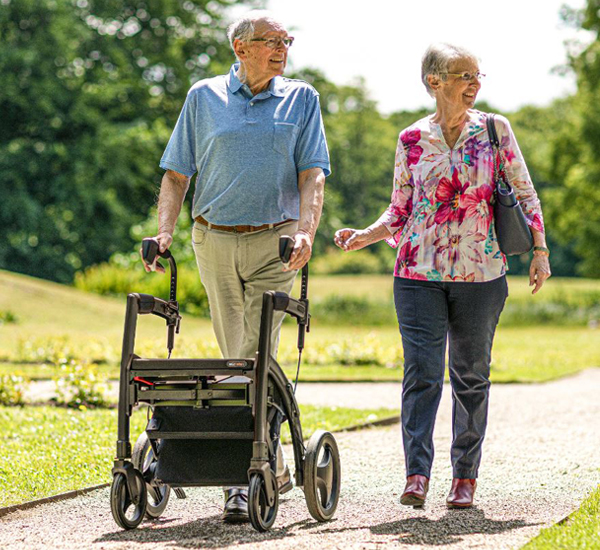 Health insurance coverage
Standard walkers are not covered by health insurance in most countries, but a 'complex walking aid' like the Rollz Motion Rhythm often is. Always ask your health insurance company about the possibilities and covered services in your plan before purchase.